THE POKER TOURNAMENTS HAVE RETIRED
Our Poker Tournament Director Ron has retired, and along with Covid, we had to make the very hard decision to not carry on with these tournaments.
First we would like to give a huge thanks to the volunteers that came out and made these happen, the players, who of course with out, there would be no tournaments. 
Another giant thanks goes out to the Sponsors who have sponsored us of over the years!!!
Started in September 2008
35 events over 12 years in a row
Over 850 different players over the years from as far away as West Virginia, Washington State, Alberta, Kamloops, Chilliwack, Hope, Mission, Vancouver and all cities in between. Truly an international event!!
$70,000 in prize money paid back into the community
Over $83,000 donated back into the community
Over 10,000 hours of volunteer work to make this happen.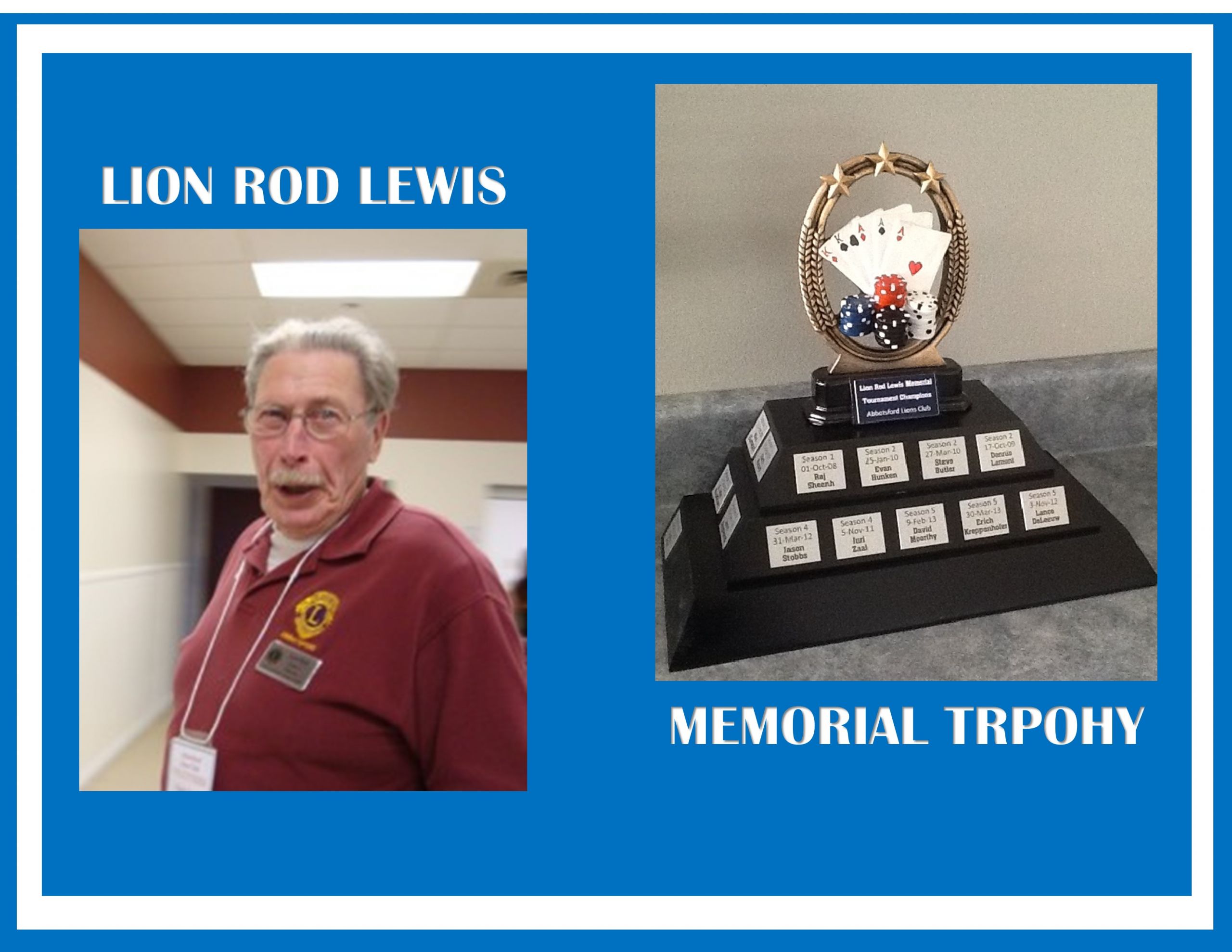 Lion Rod Lewis was a long time club member who was there from the start to help put our Poker Events together, and was also always there to help with set-up, take-down and all jobs in between. He was a staunch support of our events and the Abbotsford Lions Club. After his passing the Lion Rod Lewis Memorial Trophy was created so his memory will continue to live on through this trophy!
Royal Flush – Titanium Sponsors
FASTAMPS & LASER ENGRAVING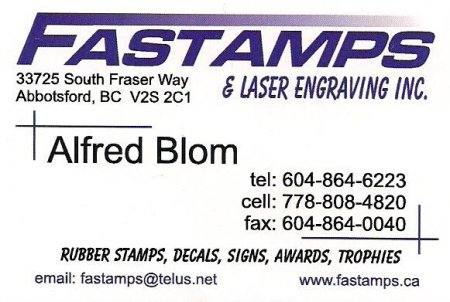 1-888-312-6849
Full House – Diamond Level Sponsors

604.859.7540 for reservations
Straight – Silver Level Door Prize Sponsors
Valley Combat and Tactical
Your Weekend Warrior Outfitter
33496 South Fraser Way
Abbotsford BC
604-851-2635
www.valleycombat.com
(A) Aces – Bronze Level Sponsors
Ann Marie's Café
33771 George Ferguson Way 604 852-2610
Barberville Barber shop Mike and Callie
33555 South Fraser Way 604-859-7916
City Cafe at City Hall
32315 S. Fraser Way 604-852-1655
Cheers Bar and Grill
www.cheersbarandgrill.ca
604-852-9119
Cheryl's Café
#9-2296 Townline Rd
604-853-2940
Coffeehousenews – Fraser Valley
info@coffeenewsfv.ca www.coffeenewfv.com
Crossroads Restaurant
1821 Sumas Way
604-852-1614
Gian's Indian Cuisine
#102-31549 South Fraser Way
604-859-4999
Save On Cartridge Plus Ink & Toner Refills
#9 – 33550 South Fraser Way
604-855-0683
www.abby-saveoncartridgeplus.com
Hot Tommy's Restaurant
#11-2296 Townline Road
604-557-0200
Legal Grounds Coffee House Inc.
www.legalgroundscoffee.com
604-859-7333
Ralph's Used Auto & Truck Parts
1216 Sumas WayAbbotsford BC V2S 7P5
604-864-8856
www.ralphsauto.com
Rivers Restaurant
31401 Livingstone Ave
604-556-0366
The Glen Bar and Grill At the Fraser Glen Golf Course
604-859-3477
Towers Café
#311-2151 McCallum Road
604-853-3837
Valley Caterers Ltd
#6 – 3225 McCallum Rd
www.valleycaterers.ca
604- 854-6121